10am Congregation News and Events
Updated 17 September 2023
17 September Bulletin Jul - Dec 2023 Roster 10am Service Recordings Latest 10am Newsletter
Archived Bulletins and Orders of Service Archived Newsletters
Upcoming 10am Services
Sunday 17 September, 10am, Wesley Church, Morning Worship, Leader; Philip Garside (Order of Service)
If you are joining with us at Wesley Church, please feel free to wear a mask if you wish.
We are livestreaming the service and you can find this on the 10am Congregation Facebook page.
Lectionary readings
Sunday 17 September: Ex 14: 19-31, Ps 114 or Ex 15: 1b—11, 20-21, Rom 14: 1-12, Mt 18: 21-35
Parish and 10am Meetings and Events Coming Up
10AM Leaders Meeting, Tuesday 12 September, 7pm, Vestry and Zoom
Finance & Resources Meeting, Thursday 28 September,7pm by Zoom
Parish Annual Meeting; Sunday 5 November
Other News
Working Bee
The Parish working bee is scheduled for Saturday 16 September at 10am.
You're all invited to come along and lend a hand in getting our halls clean.
If you have time on Saturday (even for a short time) we would love to see you.
Knit and Knatter Group
We will be meeting at the church on Thursday, 14th September at 11am for coffee, knitting and knattering.
Anyone is welcome, you don't even need to do knitting.
We will be making peggy squares into blankets.
If you would like to knit but are unable to join us, we would welcome your contribution.
If you have wool that you would like to donate, please talk with Nicola.
Specifics for the peggy squares are:
• 100% wool or wool blend – please note which you are using.
• Double knit yarn and use 4mm nee-dles or crochet hook.
• Any colour you like.
• Cast on 35 stitches, knit 61 rows then cast off.
Hymns printed on Sundays order of service
The lyrics of our hymns are not on the order of service this Sunday as we would like to take full advantage of our new overhead projector system.
We have printed some order of service with hymns and lyrics but please let Sarah know if you prefer copies with lyrics to hymns.
The order of service, including the words for the hymns, can be found here
Parish Christmas function
We would like 2 volunteers from each congregation to organize this event. The Parish Christmas function will be held on 9th December.
Please contact the office This email address is being protected from spambots. You need JavaScript enabled to view it.
Lower North Island Synod invites you to attend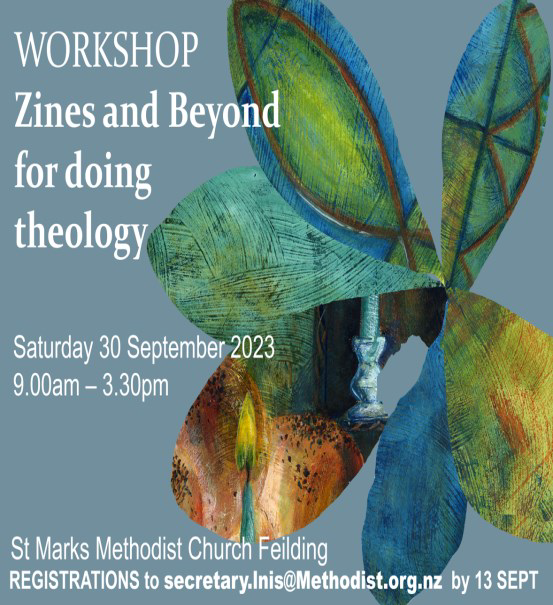 What is a zine?
A ZINE is a very cool 21st century publication genre.
A whole under-50's subculture exists in Aotearoa with annual Zine Fests in cities and libraries.
This is potentially a brilliant contemporary means of communicating everyday theology.
Zines can be made by and for: pre-schoolers, children's church programmes, youth groups and beyond…
They are cheap, accessible and can take many forms.
Hopes for workshop members
That you will be:
• Delighted and intrigued
• Open to new ways of thinking about doing theology
• Be able to take away at least one inspiring idea, technique or process with creative potential to enhance your approach to theology and life
Potential Zine Audiences
From this workshop, distribution could be family, friends, churches, congregations, specific themed worship services, children's church and Youth programmes, rest homes, charity shops, Libraries, and beyond – even a ZINE FESTIVAL!!!
Touchstone
Touchstone is now only available online. The online edition replaces the tabloid newspaper that was previously published by The Methodist Church of New Zealand Te Hāhi Weteriana o Aotearoa. For members of the Connexion who do not have access to a computer / mobile device or who prefer to read a printed version of Touchstone, please follow this link. The online version is available here.
DCM
Winter is here, and this is often a time we can become anxious about those we encounter in Wellington doing it tough.
You might have noticed a structure set up in the bush that might belong to someone sleeping rough.
You might have seen a car parked on your street for days at a time with the windows covered.
Or you might be concerned about someone you have met street begging in the cold conditions.
Not sure what to do? Call Wellington City Council on 04 499 4444 - and they will notify us.
DCM's Outreach workers will go out to connect with those you are concerned about.
Because TOGETHER we can end homelessness in Wellington.
We all deserve a roof over our heads this winter.
DCM Foodbank
Please help restock our busy foodbank shelves with the following items
• Ready meals/soups
• Instant noodles
• Tinned fish
• Coffee, tea, milk powder
• Biscuits and crackers
• Washing powder
Advance Notice
The Inter Church Bioethics Council will celebrate 21 years of service by hosting a Public Lecture by Prof. Jonathan Boston at St Paul's Anglican Cathedral in Wellington on Friday 6 October 2023 from 5-30 to 7pm.
5:30pm Drinks and nibbles
6:00pm "Keeping Hope Alive in Challeng-ing Times: Confronting the Climate Crisis"
6:45pm Questions and Answers

Jonathan Boston ONZM is Emeritus Professor of Public Policy Wellington School of Business and Government|Ōrauariki Te Herenga Waka, Victoria University of Wellington. His research interests are climate change policy (both mitigation and adapta-tion), child poverty (co-chair of the Expert Advisory Group on Solutions to Child Poverty), governance, public management, tertiary education funding and welfare state design.
Drama Christi presents "Julia Caesar; a Shakespeare production by DC
Liberty, honour and enfranchisement, the values of New Rome. But can there be room in this autonomous community for...ambition? The honourable, noble, calculating and divine must wrangle with their passions and their neighbours in this tragic and dangerous battle for New Rome's future.
Drama Christi presents Shakespeare's classic drama, where right and wrong are balanced on the edge of a knife.
Note the different show times (evenings for weeknights, and afternoons for weekends)
Remaining shows are as follows;
Sun, 27 Aug, 4.00 - 5.00pm
Thurs, 31 Aug, 7.30 - 8.30pm
Friday, 1 Sept, 7.30 - 8.30pm
Sat, 2 Sept, 4.00 - 5.00pm
Sun, 3 Sept, 4.00 - 5.00pm
Entry by koha. Bookings are recommended. Phone or This email address is being protected from spambots. You need JavaScript enabled to view it..
We look forward to seeing you at one of our shows
Wellington Methodist Endowment Trust - Looking for a new Secretary
• Do you want to make a difference in young people's lives?
• Do you have a desire for voluntary service?
• Do you want to create opportunities in the field of education?
If you answered yes to any of these questions and live in the Wellington region, there is an opportunity for you to assist the Wellington Methodist EndowmentTrust.
The Trust's objectives are to support and develop children and young people of Māori or of other cultures and races in Aotearoa New Zealand.
This is achieved through the annual allocation of grants to schools (and school-related organisations) in the greater Wellington region, to support projects that are focused on the personal development of children and young people.
The Trust looks particularly for projects that are innovative and creative and help address inequality.
The Trust is urgently seeking a secretary to manage the administrative affairs.
The position requires about 10-12 hours monthly with significant time commitments preparing for the two meetings per year and coordinating the school applications.
In total, it may be 250 hours of work annually.
Strong administrative and literacy skills along with competency in standard computer programmes and technology literacy including managing online meetings are a prerequisite.
The majority of the work is now completed online.
The position is provided with an honorarium.
Some of the applications that have been supported include kapa haka lessons for many schools, the development of a biketrack, assistance to attend school camps, funding for in-school creative performances, Duffy book funding and support towards the purchase of warm winter jackets with the school logo.
Feedback from the schools affirms how valuable the funding is to promote projects which develop pride, mana and self-esteem in the students.
We pray that the intrinsic values that students develop are life-changing.
The Trust seeks to fill this position by the end of August, so please send an expression of interest to This email address is being protected from spambots. You need JavaScript enabled to view it.
Free Face Mask's & Rat Tests Available
Feel free to pop in the Parish Office if you are in need of masks and RAT tests. We have lots of RAT test kits that can be given away as they expire in July.
10am Email List
Sign up to receive the weekly Order of Service and Bulletin by email This email address is being protected from spambots. You need JavaScript enabled to view it.
Nicola's Office Hours
Nicola is available outside of the office opening hours for visitors. If your want to visit with her, give her a call on her mobile 021 274 1957.
Covid 19
If you or a member of your family test positive it is important that you isolate, but please also let Nicola know if this is the case.
In order to keep yourself as safe as possible, please remember to wear a mask, scan in where ever you go so you have a record.
Remember it is important that you look after your physical and mental wellbeing and to look out for each other.
Office Hours
The office is open on Tuesdays to Fridays 10am to 3pm.
Ese and Sarah would be very happy to see you.
Bulletin Contributions
If you have anything for the bulletin, please have it in to the office by 12pm on Thursdays.
Roster
If you aren't coming to church on the Sunday that you are rostered, please arrange a swap and let the office know so we can keep the roster up to date, acknowledge the correct people and provide them information as required.
Parish Mobile Phone
A reminder if you notice any maintenance items, things missing or anything else that may need to be drawn to the attention of the office please text the parish mobile phone 027 359 3933 or call the main phone number 04 384 7695 and leave a message.
Both are cleared daily.
Carparking Stickers
The carpark stickers for 2023 are now available. Please collect your sticker from Alan Dine.

Also please note the following;
Presbyters car parks are strictly for our Presbyters, please do not park on their car parks space, (24/7).
Back carparks 12, 13, 14 are on lease to Wesley Community Action (24/7), please do not park on any of these spaces.
Bulletin information
The office is always looking for more information for the bulletin. If you have any news you would like to share with the congregation, please let the office know by noon on Thursday and we can include it. This could be events in your neighbourhood, or good or bad news you would like to share.
Wesley Community Action News
See Wesley@10 for the latest WCA news or go to their website http://www.wesleyca.org.nz/.
E-Messenger
Each month the Connexional Office compiles a newsletter of information which has been distributed during the month plus notices and newsletters from other parts of the Church. eMessenger is available on the Methodist website http://www.methodist.org.nz/e_messenger
Reminder to Supervise Children
A quick reminder to supervise children while you are here. Parents are responsible for the safety of their children while on the Church site. Children must be supervised by a responsible adult at all times.
Other Information
Receiving 10am bulletin and Newsletter by email - Anyone is welcome to receive the 10am bulletin and newsletter by email. If you are interested please This email address is being protected from spambots. You need JavaScript enabled to view it. your details.
Bulletin Contributions - Please note that any contributions for the Sunday bulletin need to be in the office by 12pm every Thursday.
Bookings Mobile Number - The Bookings Mobile Number is 027 359 3933. This is where you can report problems with your booking of Parish property - eg already in use, something broken, not cleaned by previous users etc
Other Activities - The 10am Congregation takes part and plans a range of different activities. Some focused on developing spirituality, while others designed as social gatherings.
For more information on our events, please see the 10am Congregation Facebook page
See you at our next event!