10am Congregation News and Events
Updated 19 March 2023
19 March Bulletin9 March Bulletin Jan - Jun 2023 Roster 10am Service Recordings Latest 10am Newsletter
Archived Bulletins and Orders of Service Archived Newsletters
Upcoming 10am Services
Sunday 19 March, 10am, Wesley Church, Morning Worship, Leader; Nicola Teague Grundy (Order of Service)
Sunday 26 March, 10am, Wesley Church, Morning Worship, Leader; Kula Bower
If you are joining with us at Wesley Church, please feel free to wear a mask if you wish.
We are livestreaming the service and you can find this on the 10am Congregation Facebook page. You may need to turn the volume up to hear the service clearly.
Lectionary readings
Sunday 19 March; 1 Samuel 16:1-13, Psalm 23, Ephesians 5: 8-14, John 9: 1-41
Sunday 26 March; Ezek 37: 1-14, Ps 130, Rom 8: 6-11, Jn 11: 1-45
Parish and 10am Meetings and Events Coming Up
Messy Church —- Sunday 19 March, 4pm – 6pm, New Hall
10am Leaders Meeting postponed
Finance & Resources — Thursday 23 March, 7pm.
Parish Council — Sunday 2nd April, after refreshments.
Other News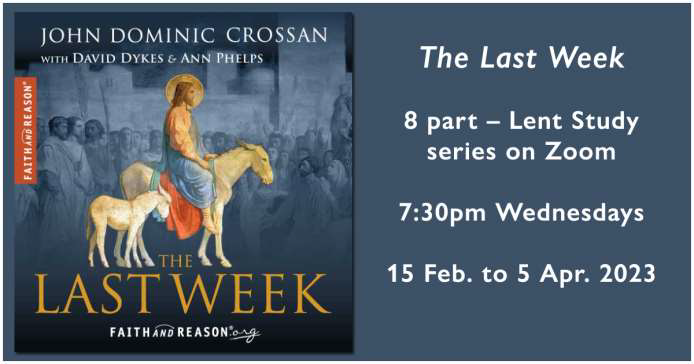 The Last Week:
8 part – Lent Study series on Zoom: 7:30pm Wednesdays, 15 Feb. to 5 Apr. 2023
This 8-week audio series brings to life the key moments leading up to Jesus' death and resurrection and provides space for group & personal reflection.
In conversation with David Dykes and Ann Phelps of Faith and Reason, John Dominic Crossan sets the scene for Holy Week within the context of a volatile Jerusalem into which Jesus arrives on Palm Sunday.
Each episode focuses on one day of Holy Week, starting on Palm Sunday and ending on Easter Sunday.
After each recorded discussion, which lasts about 25 minutes, we are given questions to consider.
We will share our responses with the group.
The Zoom sessions will be no more than an hour.
Nicola Teague Grundy, Hugh Laurenson, Sokopeti Sina and Philip Garside will take turns to lead the sessions.
Please register with Sarah Laurenson if you wish to be part of this Lenten Study series.
10AM Carpark Stickers
Collect your 2023 carpark sticker from Alan Dine. .
Tongan Easter Camp
The Tongan congregation are holding a camp over the Easter weekend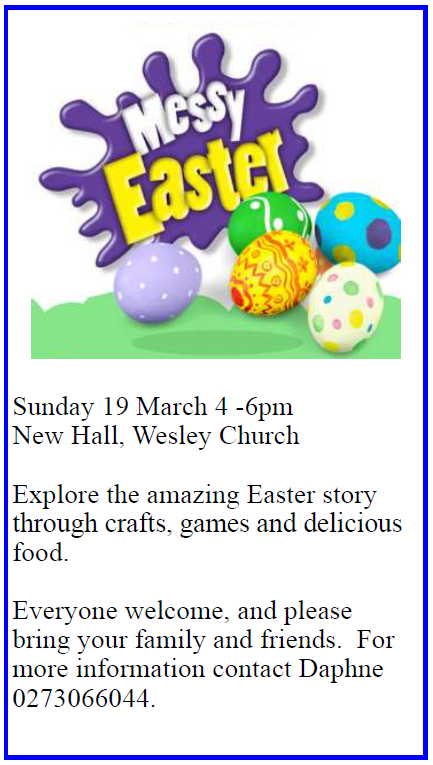 10am Congregation Giving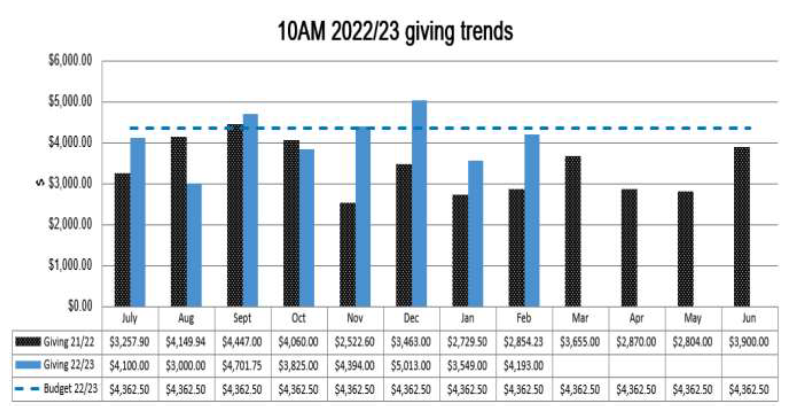 The chart above shows our monthly giving over the past year compared with the previous year.
Currently, we are a bit behind our target - we need to be giving $4,900 in total per month over the next 4 months to meet this.
We've met our target in September, November and December.
If we can increase our giving by 10% then this is very achieveable - if you're giving $100 per month, could you spare an extra $10?
Wesley Community Action
Great to see Fruit & Vege Co-Ops Wellington featured in Stuff. There are 10 packing hubs in the greater Wellington region - including Kapiti and the Wairarapa. Definitely worth checking out!
Touchstone
The March issue of Touchstone is available at the back the church. Anyone is welcome to take one. It can also be found at https://www.methodist.org.nz/whakapapa/news/touchstone/
Cyclone Gabrielle
How can you help?
New Zealand Red Cross https://www.redcross.org.nz/support-us/our-current-appeals/new-zealand-disaster-fund/
Stuff will distribute funds evenly between New Zealand Red Cross and Mayoral Relief Funds in areas where a local state of emergency has been declared.https://givealittle.co.nz/cause/cyclone-gabrielle-community-support
Mayoral Relief Funds https://www.civildefence.govt.nz/resources/news-and-events/news-and-events/mayoral-relief-funds/
KidsCan https://15forfloods.co.nz/ Supporting children in regions devastated by Cyclone Gabrielle.

Free Face Mask's & Rat Tests Available
Feel free to pop in the Parish Office if you are in need of masks and RAT tests. We have lots of RAT test kits that can be given away as they expire in July.
News From Synod
The Synod Executive met on Thursday 9 March and heard some of the story from Hawkes Bay and Gisborne Parishes.
They Synod has made a donation to Mangapapa, Wairoa and Napier parishes.
In Napier, the parish has been accommodating people and providing meals. They are also working with other social agencies.
In Wairoa, the rest home was evacuated to the Church hall where the parish made them welcome. Eventually the rest home residents were helicoptered out – dementia to Hastings, the rest to Rotorua. During the time the people from the rest home were cared for at the church, they attended a worship service and had fellowship with the congregation.
Napier and Wairoa commented that the hardest thing was NO WATER.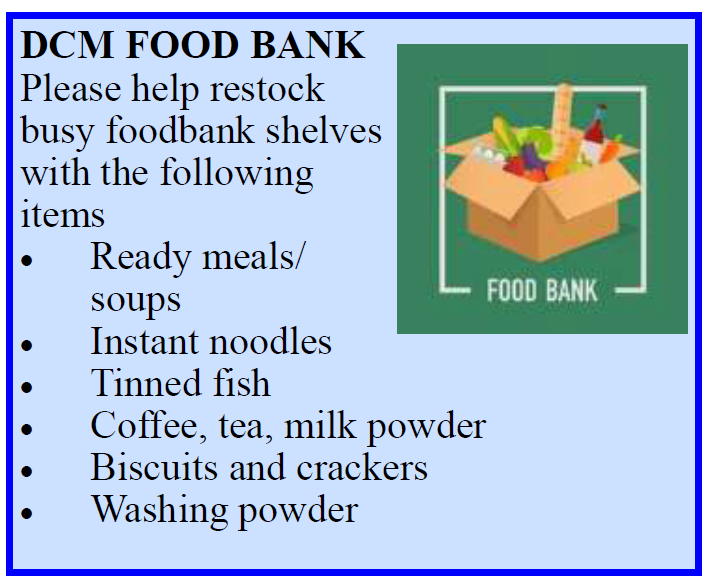 Climate Change Play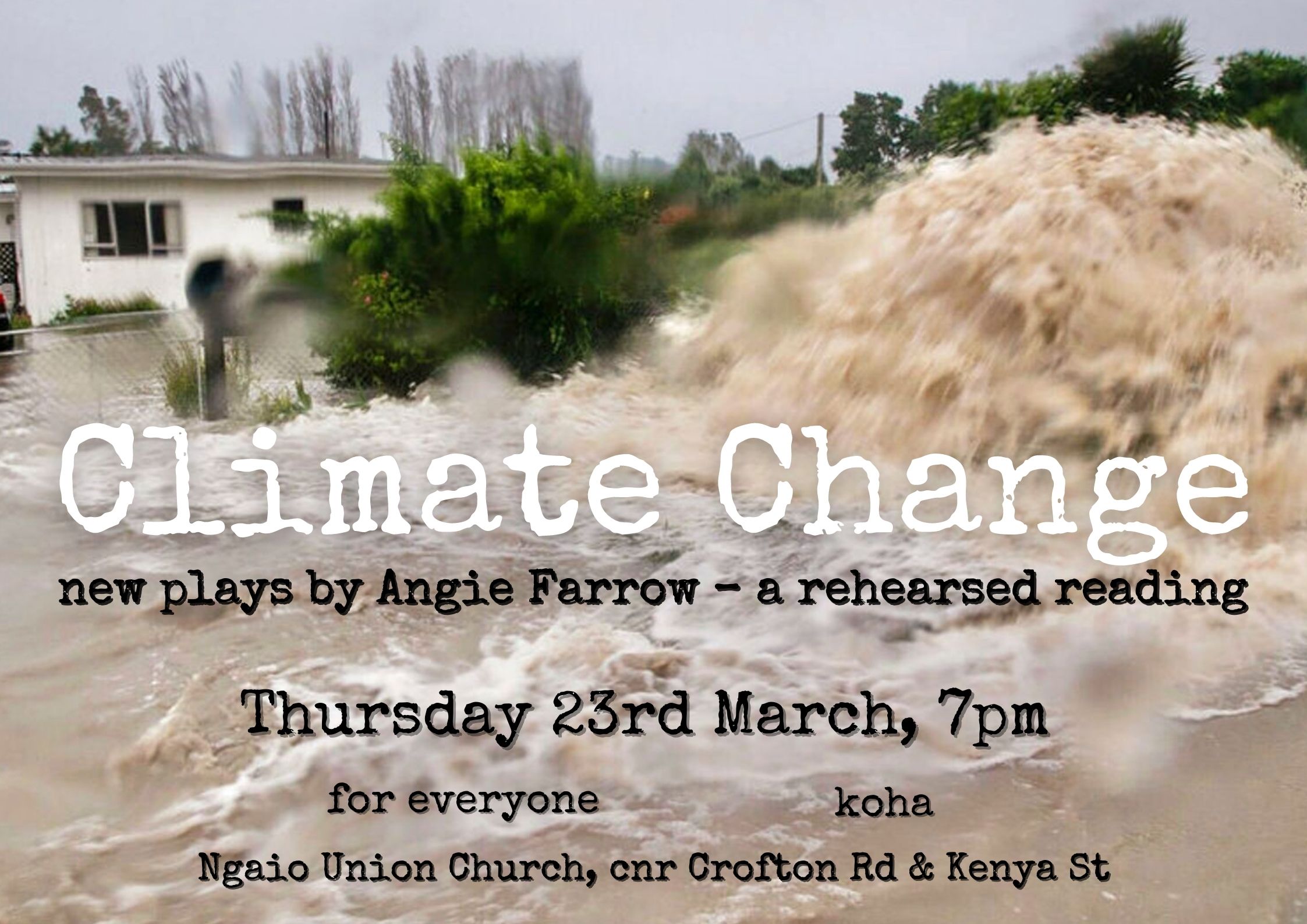 FREE 2-day community workshop.
The Living Wage Movement is holdinga community workshop.
The workshop will focus on the following objectives:
1. Demonstrating how to organise people through common concerns.
2. Illustrating relational organising and the power of intentional conversations.
3. Exploring how we build powerwith diverse networks of shared purpose.
The training will be led by the lead organiser for the Living Way Movement,Teisa Unga.
Teisa has a wealth of knowledge and practical experiencein community organising.
She will share her insights and techniques on how to build effective campaigns, engage with community members, and mobilise people to take action on issues that matter to them.
The training will take place on the 24th and 25th March at St Peters on Willis Street.If you are interested in attending please register through Eventbrite.

Nicola's Office Hours
Nicola is available outside of the office opening hours for visitors. If your want to visit with her, give her a call on her mobile 021 274 1957.

Nicola will be on annual leave from Monday 13th February, returning on Tuesday 7th March.
Nicola and Peter will be going to the Waiarapa for their leave, and then a week in Auckland.
During that time, please contact Revs Utumau'u Pupulu or SimoteTaunga for any pastoral needs.
Covid 19
If you or a member of your family test positive it is important that you isolate, but please also let Nicola know if this is the case.
In order to keep yourself as safe as possible, please remember to wear a mask, scan in where ever you go so you have a record.
Remember it is important that you look after your physical and mental wellbeing and to look out for each other.
Office Hours
The office is open on Tuesdays to Fridays 10am to 3pm.
Ese and Sarah would be very happy to see you.
Bulletin Contributions
If you have anything for the bulletin, please have it in to the office by 12pm on Thursdays.
Roster
If you aren't coming to church on the Sunday that you are rostered, please arrange a swap and let the office know so we can keep the roster up to date, acknowledge the correct people and provide them information as required.
Parish Mobile Phone
A reminder if you notice any maintenance items, things missing or anything else that may need to be drawn to the attention of the office please text the parish mobile phone 027 359 3933 or call the main phone number 04 384 7695 and leave a message.
Both are cleared daily.
Carparking Stickers
The carpark stickers for 2023 are not yet available. We will let you know when they are.
Like last year, we will be recording contact details for each sticker
Bulletin information
The office is always looking for more information for the bulletin. If you have any news you would like to share with the congregation, please let the office know by noon on Thursday and we can include it. This could be events in your neighbourhood, or good or bad news you would like to share.
Wesley Community Action News
See Wesley@10 for the latest WCA news or go to their website http://www.wesleyca.org.nz/.
E-Messenger
Each month the Connexional Office compiles a newsletter of information which has been distributed during the month plus notices and newsletters from other parts of the Church. eMessenger is available on the Methodist website http://www.methodist.org.nz/e_messenger
Reminder to Supervise Children
A quick reminder to supervise children while you are here. Parents are responsible for the safety of their children while on the Church site. Children must be supervised by a responsible adult at all times.
Other Information
Receiving 10am bulletin and Newsletter by email - Anyone is welcome to receive the 10am bulletin and newsletter by email. If you are interested please This email address is being protected from spambots. You need JavaScript enabled to view it. your details.
Bulletin Contributions - Please note that any contributions for the Sunday bulletin need to be in the office by 12pm every Thursday.
Bookings Mobile Number - The Bookings Mobile Number is 027 359 3933. This is where you can report problems with your booking of Parish property - eg already in use, something broken, not cleaned by previous users etc
Other Activities - The 10am Congregation takes part and plans a range of different activities. Some focused on developing spirituality, while others designed as social gatherings.
For more information on our events, please see the 10am Congregation Facebook page
See you at our next event!